National Interest Exception
National Interest Exception to US Travel Ban (Updated July 6, 2021)
A national interest exception application is a request for exemption from the US travel ban, which, if granted, authorizes travel to the United States for a 12-month period, valid for multiple entries as of June 29.
On January 25, 2021, President Biden reimposed the Trump travel ban on Europe, including the United Kingdom, and added South Africa to the list, joining Brazil, China, and Iran. The ban is indefinite, meaning it will apply until further notice, likely throughout 2021.
The Biden ban renews the Trump travel restrictions suspending entry into the United States for ALL foreign nationals (with certain limited exceptions, below) who have been physically present in the UK or Ireland, Europe, Brazil, China, India (May 4), Iran, or South Africa (from Jan 30), within 14 days of their arrival into the US.
The Biden ban on international travel continues to exempt national interest travel.
US visa holders who receive a national interest exception (NIE) will have their visa annotated: "NIE under P.P. on Novel Coronavirus". P.P. is short for Presidential Proclamation. The NIE permit is now valid for one year.
If you're due to renew an existing visa, talk to GHK about NIE interview waiver eligibility. Dependents under 14 and applicants 79 and above remain eligible for interview waivers.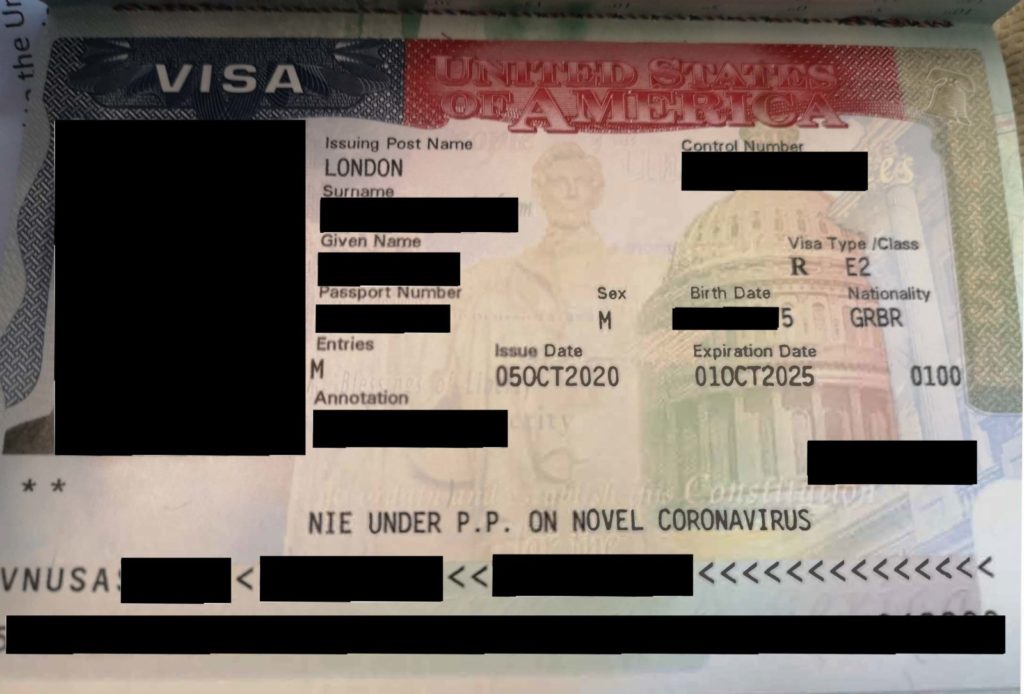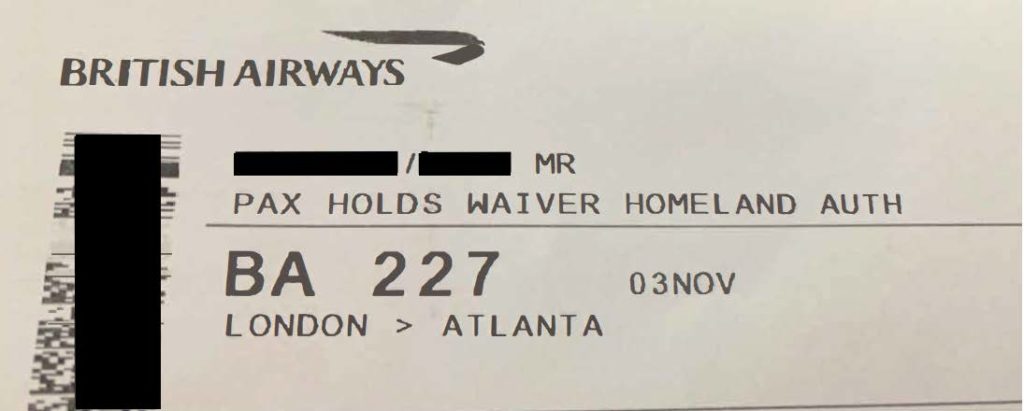 GHK Attorneys liaise with airlines and the U.S. government to ensure smooth boarding and seamless travel for clients with national interest exceptions, including those traveling visa-free with ESTA authorization.
Exceptions to Travel Ban
US Citizens, Permanent Residents and Immediate Family Members
US citizens, green card holders, and certain immediate family members are exempt and can travel to the United States, with proof of either a negative COVID-19 test or documentation of COVID-19 recovery in order to be permitted to board an aircraft.
National Interest Exception
As of July 10, 2020, E1 and E2 visa holders and applicants, as well as temporary business B1 visa holders and applicants, and B1 in lieu of H1B visa holders and applicants may qualify for a national interest exception to the Trump travel ban.
Existing L1 visa holders are also eligible to apply for a national interest exception to travel. L1 applicants, who do not currently hold a visa, but have an approved petition, may also apply for a national interest exception.
Greenwood Hanlon Kendrick represents applicants and companies applying for national interest exception cases across all embassies, consulates, and ports of entry into the United States. Please contact our attorneys to discuss your circumstances. Most recently our attorneys have represented applicants seeking national interest exemptions in the UK and Ireland, Austria, Denmark, France, Germany, and Spain.
The national interest exception, also known as a "212(f) exception", requires an applicant to prove and reason, with supporting evidence, that their entry into the United States is a matter of national interest, which should exempt them from the Trump travel ban. The following are eligibility grounds:
Business Travel: foreign nationals traveling to the US to provide a significant economic benefit to the economy, including:
Senior-level managers/executives, traveling to the US to provide strategic direction necessary for the success of their company;
Technical experts and specialists installing, servicing, maintaining, or receiving training for machinery and other specialized equipment used by US and foreign firms with a substantial investment in the United States.
O visa holders traveling to undertake a commercial endeavor, providing significant economic or cultural benefit to the US.
Investors: travel in connection with investment or trade in the US economy that generates a substantial economic impact, including E2 investors and E1 traders and employees of E registered companies who provide strategic direction or expertise essential to the success of the investment.
Defense: travel critical to defense and law enforcement, as well as diplomacy.
Public Health: healthcare professionals or researchers working to alleviate the effects of the COVID-19 pandemic OR to continue ongoing research in an area with substantial public health benefit e.g. cancer research.
Professional athletes, dependents, and essential staff on O visas who enter the United States to participate in major sporting events, which bolster the US economy.

Limitations of National Interest Exception (Updated: July 6, 2021)
As far as the U.S. State Department's updated NIE policy on automatic extensions, at this time, the 12-month validity and multiple entry NIE waiver is only applicable to NIE's granted by the Department of State.  NIE requests reviewed and approved by U.S. Customs and Border Protection will continue to be valid only for the period of time originally authorized, e.g. a one-time 30 day period. Applicants need to apply to and wait for a response to be rendered by local embassies/consulates for the NIE 12-month multiple entry validity to be applicable.
The U.S. Centers for Disease Control and Prevention (CDC) has ordered that starting January 26, 2021, all airline passengers aged 2 and above departing from any foreign country to the United States must first provide either a negative COVID-19 test or documentation of COVID-19 recovery in order to be permitted to board an aircraft. The order does not supersede travel bans; the CDC order is an additional requirement to travel to the United States.